Contactors, Reversing Contactors, TeSys F, Authorized Dealer, Supplier For Schneider Electric Products, HPL Group, OBO BETTERMANN, Hensel, COOPER Busmann, Neptune-Ducati. Our setup is situated in Pune, Maharashtra, India & we serve worldwide but majorly customers from Gulf countries like Bahrain, Dubai, Oman, Qatar, Saudi Arabia, Egypt, Jordan, Lebanon, Syria, Yemen, Kuwait, UAE, and African countries like Algeria, Angola, Ascension, Benin, Bissau, Botswana, Burkina Faso, Burundi, Cameroon, Cape Verde, Chad, Comoros, Congo, Cunha, Djibouti, Egypt, Equatorial Guinea, Eritrea, Ethiopia, Gabon, Gambia, Ghana, Guinea, Kenya, Lesotho, Liberia, Libya, Lvory Coast, Madagascar, Malawi, Mali, Mauritania, Mauritius, Mayotte, Morocco, Mozambique, Namibia, Nigeria, Rwanda, Saint Helena, São Tomé and Príncipe, Senegal, Seychelles, Sierra Leone, Somalia, South Africa, South Sudan, Sudan, Swaziland, Tanzania, Togo, Tunisia, Uganda, Western Sahara, Zambia, Zimbabwe etc.
TeSys F
Contactors and reversing contactors up to 450 kW/400 V and 2100 A/AC1
Contactors up to 450 kW/400 V and 1600 A/AC1
All DC or AC control voltages 50/400 Hz
"Power" connection
Flexibility (options can be added)
Safety of operation
Quick, simple mounting of contactor and GV7-R circuit-breaker
Connectors : screws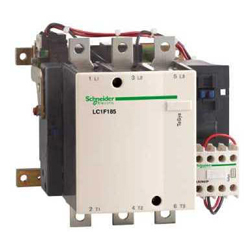 Benefits
The possibilities of a powerful offer
This extremely compact model F contactor offer will more than satisfy your need for high performance. Combined with the LR9 electronic relay or GV7 motor circuit-breaker, these contactors are the ideal starters for you, offering quick, simple selection as well as shared accessories for greater flexibility.

Applications

Industry, infrastructure, building, etc :

Control of all types of motor in normal or severe service conditions
Control of resistive, inductive and capacitive circuits.