Magnetic Motor Circuit Breakers, Thermal Magnetic Motor Circuit Breakers, Tesys MPCB, GV2ME, GV2P, Authorized Dealer, Supplier For Schneider Electric Products, HPL Group, OBO BETTERMANN, Hensel, COOPER Busmann, Neptune-Ducati. Our setup is situated in Pune, Maharashtra, India & we serve worldwide but majorly customers from Gulf countries like Bahrain, Dubai, Oman, Qatar, Saudi Arabia, Egypt, Jordan, Lebanon, Syria, Yemen, Kuwait, UAE, and African countries like Algeria, Angola, Ascension, Benin, Bissau, Botswana, Burkina Faso, Burundi, Cameroon, Cape Verde, Chad, Comoros, Congo, Cunha, Djibouti, Egypt, Equatorial Guinea, Eritrea, Ethiopia, Gabon, Gambia, Ghana, Guinea, Kenya, Lesotho, Liberia, Libya, Lvory Coast, Madagascar, Malawi, Mali, Mauritania, Mauritius, Mayotte, Morocco, Mozambique, Namibia, Nigeria, Rwanda, Saint Helena, São Tomé and Príncipe, Senegal, Seychelles, Sierra Leone, Somalia, South Africa, South Sudan, Sudan, Swaziland, Tanzania, Togo, Tunisia, Uganda, Western Sahara, Zambia, Zimbabwe etc.
Tesys MPCB (GV2ME) & (GV2P)
TeSys GV2
Circuit breakers 0


Magnetic and thermal-magnetic motor circuit-breakers up to 15 kW
Presentation
Manual and local control, when the motor circuit-breaker is used on its own, and automatic and remote control when combined with a contactor
Motor protection provided by thermal-magnetic devices built into the circuit-breaker
No live parts are accessible to direct finger contact
The addition of an undervoltage trip enables the motor circuit-breaker to be tripped if voltage is lost
The addition of a shunt trip enables remote control of tripping
The control for the open or enclosed motor circuit-breaker can be locked in the "N/C" position using 3 padlocks
Connectors: spring terminal, screw clamp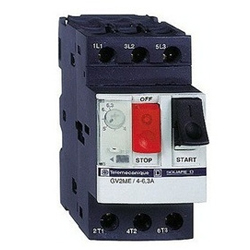 Benefits
Complete protection concentrated in a single product
Compact and simple to select, TeSys GV2 motor circuit-breakers are only 45 mm wide and are categorized according to their level of performance and functions: type of control, breaking capacity, motor protection and accessories.


Applications

Industry, infrastructure, building, etc :

Motor control and protection, in accordance with standards IEC 947-2 and IEC 947-4-1
Easily inserted in any configuration by screw or clip-fixing onto mounting rails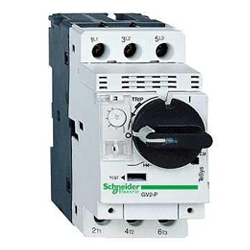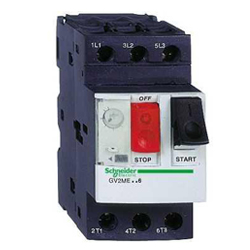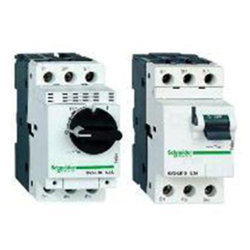 TeSys GV3
Circuit breakers up to 30 kW


Thermal-magnetic and magnetic circuit-breakers up to 30 kW
Presentation
Can be easily integrated with all configurations, thanks to their 55 mm standard width and rail Din fixing.


GV3 P Thermal-Magnetic Breaker :

7 ratings from 9 to 65 A used for magnetic and thermal motor protection from 5,5 to 30 kW.
GV3 L Magnetic Breaker :

5 ratings from 25 to 65 A used for magnetic motor protection from 11 to 30 kW.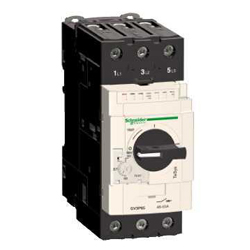 Common characteristics :

50 kA Icu breaking capacity from 40 to 65A and 100 kA Icu from 9 to 32 A, complying with international standards and certifications.
Product capacity: 55 mm standard width provides an easier installation in the panel and space saving, rail Din fixing
Sturdiness and safety with 3 positions rotary handle, front face padlocking.
Common additives parts for TeSys GV2 and GV3 ranges.

Benefits
A stronger, safer, and long-term connection
Designed with the new and ingenious, EverLink* patented, power terminal system, TeSys GV3 circuit-breaker provides a more reliable connection quality: the tightening pressure applied to the cables remain stable, strong and long-lasting even under tough conditions. Common additive parts to GV2 and GV3 ranges provide simplicity and significant installation time saving.
Applications
Industry, infrastructures, buildings :
Used for motor control and protection, complying with IEC 947-2 and IEC 947-4-1 standards.