LIVIA Switches, LIVIA Sockets, Authorised Dealer, Supplier For Schneider Electric Products, HPL Group Products, OBO BETTERMANN Products, Hensel Products, COOPER Busmann Products, Neptune-Ducati Products. Our setup is situated in Pune, Maharashtra, India & we serve worldwide but majorly customers from Gulf countries like Bahrain, Dubai, Oman, Qatar, Saudi Arabia, Egypt, Jordan, Lebanon, Syria, Yemen, Kuwait, UAE, and African countries like Algeria, Angola, Ascension, Benin, Bissau, Botswana, Burkina Faso, Burundi, Cameroon, Cape Verde, Chad, Comoros, Congo, Cunha, Djibouti, Egypt, Equatorial Guinea, Eritrea, Ethiopia, Gabon, Gambia, Ghana, Guinea, Kenya, Lesotho, Liberia, Libya, Lvory Coast, Madagascar, Malawi, Mali, Mauritania, Mauritius, Mayotte, Morocco, Mozambique, Namibia, Nigeria, Rwanda, Saint Helena, São Tomé and Príncipe, Senegal, Seychelles, Sierra Leone, Somalia, South Africa, South Sudan, Sudan, Swaziland, Tanzania, Togo, Tunisia, Uganda, Western Sahara, Zambia, Zimbabwe etc.
LIVIA


Switch to the extra-ordinary
Presentation
Aesthetics : Sleek wall hugging switch with a classic finish on soft white high gloss polycarbonate. Its thin wall hug along with free flowing surface design makes it dust free and easy to clean.
The 2.7mm thickness of the plates on all four sides lures your wall with LIVIA's close hug. The sleek yet curved body thus guarantees to be the perfect addition to any household or workspace.
Performance : Switches with optimally designed copper bridge and silver inlay contacts add durability and arc shield provides added safety.
Ease of installation : Front loading modules, IP 20 protected switch terminals, laser marked wiring diagram, bigger terminal holes for ease of installation and to save labour.
Fan controllers with 360 degree rotary knob for ease of speed regulation, hum free operation and uniform speed variation. They are available in one module and two modules sizes.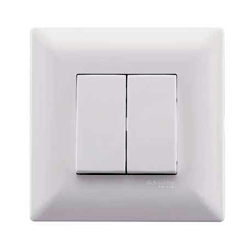 Benefits


Soft white, High gloss, free flowing surface design makes it dust free and easy to clean.
Built-in spark shield for added safety.
Fan controllers with 360 degree rotary knob for ease of speed regulation.
Hum free operation and uniform speed variation.
Honey comb design for grid plate for extra strength.
Front loading modules for easy snap-in and snap-out


Applications
LIVIA is a complete range wiring device with switches, sockets, Communication outlets & plates. This can be used in residences, hotels, offices, commercial buildings, hospitals etc.,