Thermal Overload Relays, Control Relays, Motor Protection Circuit Breakers, Contactors, Easy Pact TVS, Authorized Dealer, Supplier For Schneider Electric Products, HPL Group, OBO BETTERMANN, Hensel, COOPER Busmann, Neptune-Ducati. Our setup is situated in Pune, Maharashtra, India & we serve worldwide but majorly customers from Gulf countries like Bahrain, Dubai, Oman, Qatar, Saudi Arabia, Egypt, Jordan, Lebanon, Syria, Yemen, Kuwait, UAE, and African countries like Algeria, Angola, Ascension, Benin, Bissau, Botswana, Burkina Faso, Burundi, Cameroon, Cape Verde, Chad, Comoros, Congo, Cunha, Djibouti, Egypt, Equatorial Guinea, Eritrea, Ethiopia, Gabon, Gambia, Ghana, Guinea, Kenya, Lesotho, Liberia, Libya, Lvory Coast, Madagascar, Malawi, Mali, Mauritania, Mauritius, Mayotte, Morocco, Mozambique, Namibia, Nigeria, Rwanda, Saint Helena, São Tomé and Príncipe, Senegal, Seychelles, Sierra Leone, Somalia, South Africa, South Sudan, Sudan, Swaziland, Tanzania, Togo, Tunisia, Uganda, Western Sahara, Zambia, Zimbabwe etc.
Easy Pact TVS
The easy choice for simplicity and flexibility
Presentation
Contactors from 6 to 630A
2.2 kW to 335 kW (AC3/400 V)
3 poles
AC control
Embedded auxiliary contacts
Thermal overload relay
The complete range offers optional direct mounting under contactors
Class 10A
RoHS compliance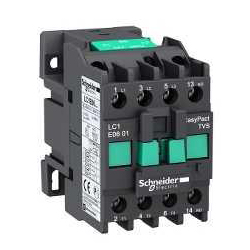 Control relay
Choose from three combinations of contact types : 2NO/2NC, 3 NO/1NC, 4 NO
Motor Protection Circuit Breaker
One size from 0,37 to 15kW
Width = 44,5 mm
Icu breaking capacity up to 100 kA
Benefits
The EasyPact TVS range provides you a perfect balance of the performances you need, with simplicity of selection, purchasing and stocking, and with an extended flexibility.
Applications
The EasyPact TVS range of motor starters cover the common application.