Contactors, Reversing Contactors, Non Reversing Contactors, Authorised Dealer, Supplier For Tesys D. Our setup is situated in Pune, Maharashtra, India & we serve worldwide but majorly customers from Gulf countries like Bahrain, Dubai, Oman, Qatar, Saudi Arabia, Egypt, Jordan, Lebanon, Syria, Yemen, Kuwait, UAE, and African countries like Algeria, Angola, Ascension, Benin, Bissau, Botswana, Burkina Faso, Burundi, Cameroon, Cape Verde, Chad, Comoros, Congo, Cunha, Djibouti, Egypt, Equatorial Guinea, Eritrea, Ethiopia, Gabon, Gambia, Ghana, Guinea, Kenya, Lesotho, Liberia, Libya, Lvory Coast, Madagascar, Malawi, Mali, Mauritania, Mauritius, Mayotte, Morocco, Mozambique, Namibia, Nigeria, Rwanda, Saint Helena, São Tomé and Príncipe, Senegal, Seychelles, Sierra Leone, Somalia, South Africa, South Sudan, Sudan, Swaziland, Tanzania, Togo, Tunisia, Uganda, Western Sahara, Zambia, Zimbabwe etc.
TeSys D
Contactors and reversing contactors up to 75 kW/400 V and 250 A/AC1
Reversing or non-reversing contactors up to 75 kW/400 V and 250 A/AC1
AC, DC, low-consumption DC control circuit
All types of starter: reversing or non-reversing, star/delta, by auto-transformer, etc
Connectors: spring terminal, EverLink terminal block, screw clamp, ring-type connection, Faston connector.
Easy and simple direct mounting between contactor and circuit breaker, according to EverLink terminal block (from 40 to 65 A).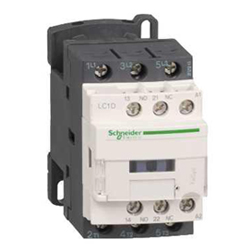 Benefits
Take control of integration
In addition to its new look, the TeSys d contactor offers you quick simple setup, while maintaining a compact size of 45 and 55 mm (40 to 65 A) as well as compliance with international standards. From 40 to 65 A versions are equipped with EverLink, this new patented terminal technology, assures a permanent tightening quality even in the event of conductor creep.

Applications

Industry, infrastructure, building, etc :
TeSys d contactors have been designed for perfect integration in control systems
They can be used to create motor starters for any type of application.