Moulded Case Circuit Breakers, MCCB, With Fixed Thermal Magnetic Trip Unit, EasyPact EZC, Authorised Dealer, Supplier For Schneider Electric Products, HPL Group Products, OBO BETTERMANN Products, Hensel Products, COOPER Busmann Products, Neptune-Ducati Products. Our setup is situated in Pune, Maharashtra, India & we serve worldwide but majorly customers from Gulf countries like Bahrain, Dubai, Oman, Qatar, Saudi Arabia, Egypt, Jordan, Lebanon, Syria, Yemen, Kuwait, UAE, and African countries like Algeria, Angola, Ascension, Benin, Bissau, Botswana, Burkina Faso, Burundi, Cameroon, Cape Verde, Chad, Comoros, Congo, Cunha, Djibouti, Egypt, Equatorial Guinea, Eritrea, Ethiopia, Gabon, Gambia, Ghana, Guinea, Kenya, Lesotho, Liberia, Libya, Lvory Coast, Madagascar, Malawi, Mali, Mauritania, Mauritius, Mayotte, Morocco, Mozambique, Namibia, Nigeria, Rwanda, Saint Helena, São Tomé and Príncipe, Senegal, Seychelles, Sierra Leone, Somalia, South Africa, South Sudan, Sudan, Swaziland, Tanzania, Togo, Tunisia, Uganda, Western Sahara, Zambia, Zimbabwe etc.
Safe, Reliable and Easy
With just three sizes of circuit breakers, Schneider Electric's EasyPact EZC system is the simple, universal solution, particularly adapted to Buildings and OEM segments .
Suitability for Isolation ensures safety
Compliance to RoHS (Restriction of Hazardous Substances) for environment safety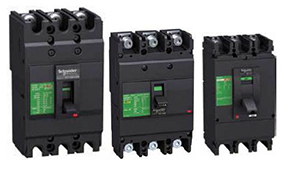 Range Details

Global MCCB offer from 15A to 600A
Breaking capacity upto 50kA @ 415 V
1P, 2R 3P and 4P versions available


Moulded Case Circuit Breakers for Distribution Network
With Fixed Thermal Magnetic Trip Unit (TMD)
Conforms to IEC60947 - 2
Suitable for isolation
Suitable for EasyPact Busbar system