Motor Management Systems, Tesys-T, LTMR, Authorized Dealer, Supplier For Coolite. Our setup is situated in Pune, Maharashtra, India & we serve worldwide but majorly customers from Gulf countries like Bahrain, Dubai, Oman, Qatar, Saudi Arabia, Egypt, Jordan, Lebanon, Syria, Yemen, Kuwait, UAE, and African countries like Algeria, Angola, Ascension, Benin, Bissau, Botswana, Burkina Faso, Burundi, Cameroon, Cape Verde, Chad, Comoros, Congo, Cunha, Djibouti, Egypt, Equatorial Guinea, Eritrea, Ethiopia, Gabon, Gambia, Ghana, Guinea, Kenya, Lesotho, Liberia, Libya, Lvory Coast, Madagascar, Malawi, Mali, Mauritania, Mauritius, Mayotte, Morocco, Mozambique, Namibia, Nigeria, Rwanda, Saint Helena, São Tomé and Príncipe, Senegal, Seychelles, Sierra Leone, Somalia, South Africa, South Sudan, Sudan, Swaziland, Tanzania, Togo, Tunisia, Uganda, Western Sahara, Zambia, Zimbabwe etc.
Tesys-T (LTMR)


Motor management system
TeSys T comprises :
a controller providing main protection and control functions
an extension module that completes the functions of the controller by the voltage protection and monitoring
an LTMCU operator control unit for reading, diagnostics and modification of the parameters monitored


Power Suite configuration software, enabling simple and user-friendly setting-up of motor starters incorporated with TeSys T.
TeSys T incorporates a communication interface for remote supervision and control of the motor.


Fully open, It can communicate with the most commonly used protocol networks: Ethernet, Modbus, CANopen, DeviceNet, Profibus DP.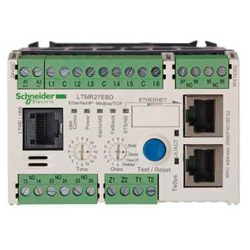 Benefits
Give your motor starters a sixth sense!
TeSys T is an advanced motor management and protection system. It is capable of preventing all their malfunctions. Impromptu stopping of a process or production associated with a motor is anticipated.
Open to all communication protocols, TeSys T can efficiently replace all existing relays.


Applications

Industrial installations such as :

Oil & gas
Mining and mineral
Water treatment
Metallurgy
Pulp & paper
Pharmaceutical


Integration in intelligent Motor Control Centers applications for :

Pumping, ventilation, filtering
Compressors, mixers, crushers, conveyor systems