NEO C METRO Standalone Residential Lighting Control, NEO-X Switches and Dimmers, Authorised Dealer, Supplier For Schneider Electric Products, HPL Group Products, OBO BETTERMANN Products, Hensel Products, COOPER Busmann Products, Neptune-Ducati Products. Our setup is situated in Pune, Maharashtra, India & we serve worldwide but majorly customers from Gulf countries like Bahrain, Dubai, Oman, Qatar, Saudi Arabia, Egypt, Jordan, Lebanon, Syria, Yemen, Kuwait, UAE, and African countries like Algeria, Angola, Ascension, Benin, Bissau, Botswana, Burkina Faso, Burundi, Cameroon, Cape Verde, Chad, Comoros, Congo, Cunha, Djibouti, Egypt, Equatorial Guinea, Eritrea, Ethiopia, Gabon, Gambia, Ghana, Guinea, Kenya, Lesotho, Liberia, Libya, Lvory Coast, Madagascar, Malawi, Mali, Mauritania, Mauritius, Mayotte, Morocco, Mozambique, Namibia, Nigeria, Rwanda, Saint Helena, São Tomé and Príncipe, Senegal, Seychelles, Sierra Leone, Somalia, South Africa, South Sudan, Sudan, Swaziland, Tanzania, Togo, Tunisia, Uganda, Western Sahara, Zambia, Zimbabwe etc.
NEO C-METRO
Standalone Residential Lighting Control
Presentation
NEO-X Switches and Dimmers are two wire design which enables direct replacement of standard mechanical electrical switches without additional cabling or rewriting. A built in RF receiver enables direct remote control to switches with scene or individual circuit control feature. Equipped with wireless C-Bus engine and operated with 1-way control topologies, NEO-X switches are compliant with incandescent, fluorescent lighting, energy saving lamp.


Neo x switches styles and features contemporary and sleek design. In addition, the units features blue LED backlight with easy- to-push buttons for on/off switching.

The switches use British Standard electrical wall boxes making them simple to retrofit and install to complement any interior design.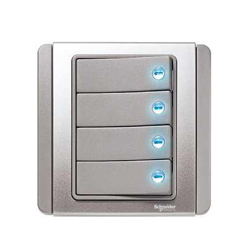 E3852D2L1EA-GB 1 GANG Dimmer 500VA, Grey
E3854D1L2EA-GB 2 GANG Dimmer 2 x250VA,Grey
E3851WTXBA-GB 1 Gang Free Locate Sw. Grey
E3854WTXBA-GB 4 Gang Free Locate Sw.,Grey
3855TXBA-GB Remote
E3851R8F1EA-GB 1 Gang Relay Sw.,Grey
E3852R4F2EA-GB 2 Gang Relay Sw.,Grey


E3852D2L1EA-WE 1 GANG Dimmer 500VA, White
E3854D1L2EA-WE 2 GANG Dimmer 2 x250VA,White
E3851WTXBA-WE 1 Gang Free Locate Sw.White
E3854WTXBA-WE 4 Gang Free Locate Sw. White
E3851R8F1EA-WE 1 Gang Relay Sw.White
E3852R4F2EA-WE 2 Gang Relay Sw.White


Benefits
Sleek and contemporary design.
2- wire true retrofit design enables direct replacement.
Fully compatible with British Standard wall boxes, no special mounting accessories required.
Light touch buttons equipped with LED backlight,allow users to locate the switch in a dark environment.
Tactlie switch.
Built in RF receiver enables remote switching and dimming of light switches.
Distributed intelligent configuration eliminates the requirement for central controllers, users are able to control lighting circuits on/off and lighting intensity locally as well as by remote control unit.
Applications
Schneider Electric provides suitable solution for every individual situation whether it is for
a classic flat/Apt.
a retrofit solution for flat/apt.
New homes in the planning stage.