Switch Disconnector Fuse Unit Circuit Breakers ( SDF ), Authorised Dealer, Supplier For Schneider Electric Products, HPL Group Products, OBO BETTERMANN Products, Hensel Products, COOPER Busmann Products, Neptune-Ducati Products. Our setup is situated in Pune, Maharashtra, India & we serve worldwide but majorly customers from Gulf countries like Bahrain, Dubai, Oman, Qatar, Saudi Arabia, Egypt, Jordan, Lebanon, Syria, Yemen, Kuwait, UAE, and African countries like Algeria, Angola, Ascension, Benin, Bissau, Botswana, Burkina Faso, Burundi, Cameroon, Cape Verde, Chad, Comoros, Congo, Cunha, Djibouti, Egypt, Equatorial Guinea, Eritrea, Ethiopia, Gabon, Gambia, Ghana, Guinea, Kenya, Lesotho, Liberia, Libya, Lvory Coast, Madagascar, Malawi, Mali, Mauritania, Mauritius, Mayotte, Morocco, Mozambique, Namibia, Nigeria, Rwanda, Saint Helena, São Tomé and Príncipe, Senegal, Seychelles, Sierra Leone, Somalia, South Africa, South Sudan, Sudan, Swaziland, Tanzania, Togo, Tunisia, Uganda, Western Sahara, Zambia, Zimbabwe etc.
Switch Disconnector Fuse Unit ( SDF )
Fuse solutions from the world leader in electrical distribution
The most complete fuse device offer in single and double break - switch disconnector fuses, fuse switch disconnectors and disconnector fuses
Double break and Single break offer.
Short-circuit and overload protection
Isolation
On-load switching of circuits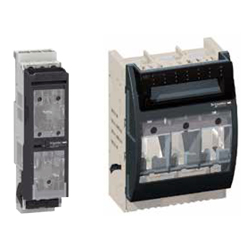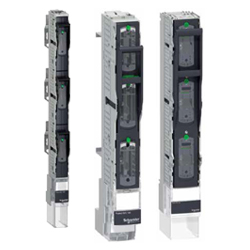 Range Details : NX range Switch Disconnecter Fuse

32A to 630A TI? TPN & FP version suitable for DIN/BS fuses.
4 break and 8 arcing zones
IP20 Fuse protection cover is standard.
Range Details : ISFT range Fuse Switch Disconnecter
100A to 630A TP, version suitable for DIN fuses.
Single breaking and direct connection to busbars
isolation with positive contact indication when the fuse-carrier assembly is in the open position (OFF).
Range Details : ISFL range Vertical Fuse Switch Disconnecter

160A to 1250A TP, version suitable for DIN fuses.
Single breaking and direct connection to busbars
Two versions i.e Single pole or Three pole operation