Power Logic ION Meters, Authorised Dealer, Supplier For Schneider Electric Products, HPL Group Products, OBO BETTERMANN Products, Hensel Products, COOPER Busmann Products, Neptune-Ducati Products. Our setup is situated in Pune, Maharashtra, India & we serve worldwide but majorly customers from Gulf countries like Bahrain, Dubai, Oman, Qatar, Saudi Arabia, Egypt, Jordan, Lebanon, Syria, Yemen, Kuwait, UAE, and African countries like Algeria, Angola, Ascension, Benin, Bissau, Botswana, Burkina Faso, Burundi, Cameroon, Cape Verde, Chad, Comoros, Congo, Cunha, Djibouti, Egypt, Equatorial Guinea, Eritrea, Ethiopia, Gabon, Gambia, Ghana, Guinea, Kenya, Lesotho, Liberia, Libya, Lvory Coast, Madagascar, Malawi, Mali, Mauritania, Mauritius, Mayotte, Morocco, Mozambique, Namibia, Nigeria, Rwanda, Saint Helena, São Tomé and Príncipe, Senegal, Seychelles, Sierra Leone, Somalia, South Africa, South Sudan, Sudan, Swaziland, Tanzania, Togo, Tunisia, Uganda, Western Sahara, Zambia, Zimbabwe etc.
High Accuracy, Specialized Solutions - for MV / LV Distribution

PowerLogic™ ION 7650 / 7550
Summarize power quality, set targets, measure and verify results
Modbus Master functionality to read from downstream Modbus devices and view it via the front panel
IEC 61850 protocol to increase interoperability & decrease engineering time
Gateway functionality to access downstream meter's readings through ethernet
Detect and capture transients as short as 20µs at 50Hz (17µs at 60 Hz)
Power quality compliance monitoring IEC 61000-4-30 class A ed. 2, EN50160, IEC 61000-47, IEC 61000-4-15, IEEE 519, IEEE 1159, and CBEMA/ITIC
Evaluate flicker based on IEC 61000-4-15 and IEEE 1453
Detect wave-form changes & record ultra-fast electrical parameters every 100 m.s.
Trend curves and short-term forecasting of upcoming values for better decisions
Disturbance direction detection with results captured in the event log, with a timestamp and certainty level
Alarm set-point teaming & alarm notification via email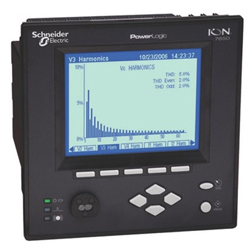 PowerLogic™ ION 8800 / 8650
Utility grade accurate metering with IEC 62053-22,3 Class 0.2S with 1024 samples / cycle
Power quality compliance monitoring for IEC 61000-4-30 Class A/S, EN50160, IEC 61000-4-7, IEC 61000-4-15, IEEE 1159, IEEE 519
Power quality measurements with Individual Harmonics, sag — swell, transient detection, waveform analysis & logging
Digital fault recording by capturing voltage and current channels simultaneously for sub-cycle disturbances
Complete communications through IEC1107 optical port or the optional communications module that supports concurrent Ethernet, serial, and modem communications
Transformer/line loss compensation for system losses in real time directly in the meter
Instrument transformer correction to save money and improve accuracy by correcting for less accurate transformers.